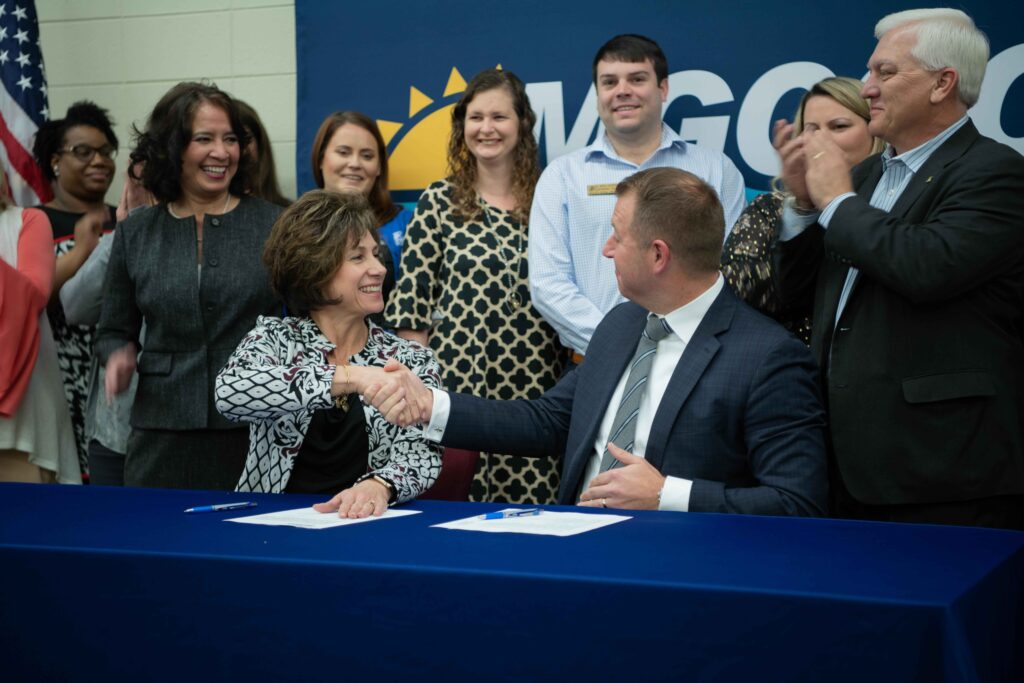 In 2019, Mississippi Gulf Coast Community College (MGCCC) and Keesler Federal Credit Union launched an apprenticeship program that provides training to current credit union employees who want to gain the skills and experience needed to advance their careers. Gayle Brown, a workforce and grants developer with MGCCC, helped Keesler design the Bank Branch Manager Apprenticeship Program, which is the first financial-industry registered apprenticeship (RA) program in Mississippi and the only online RA program in the state.
Brown said when she approached Keesler CEO Andy Swoger, she originally pitched the idea of a program to provide training to tellers and other entry-level employees. However, Swoger wanted to focus on mid-level managers who had a desire to grow and advance in the organization. Swoger also wanted a program that would allow Keesler employees in other parts of the country and around the world to participate. Brown worked with MGCCC professors to develop an online program that employees could complete at night and on the weekends while they continued to work at the bank.
There were 19 Keesler employees to participate in the first apprenticeship cohort, including nine branch managers who wanted to refresh their skills and learn what the potential new managers were learning. "For veteran employees, it's something special because they have been there already, and this is recognizing they are a valued employee," said Brown.
Apprentices have to complete seven courses and ten hours of on-the-job training. Keesler offers bonuses or raises to employees who complete the program.
Brown said she has had other banks approach her about starting programs for their employees because they recognize the benefits of growing a talented workforce. "Employers are excited. It's a different way to do things. We are offering a workforce solution that is a win-win for everyone. It benefits the employer because they get a good return on investment. They're creating loyalty. They're passing on their knowledge. They're showing the employee that they value them because they are investing money and time in them."
In addition to the benefits for employers, Brown said the program offers significant benefits for apprentices. "For the students, it's a win-win for them because they don't have to pay for anything. It's debt-free for them. Millennials like that you're offering a program where they can receive mentorship, where someone is going to work with them, teach them, single them out for their skill set, and they feel rewarded."
According to Brown, the program has been extremely successful, and the college has plans to expand the apprenticeship offerings to other industries such as truck driving and shipbuilding.