As Registered Apprenticeship (RA) continues to grow and diversify across the country, more individuals and organizations are getting involved in apprenticeship work. Launching a program or finding the right RA program to meet your career goals might seem difficult. However, the Mississippi Apprenticeship Program (MAP) has the tools and resources you need to navigate the apprenticeship process.
Review the resources below to learn more about RA or email MAP at apprenticesinfo@mdes.ms.gov.
Visit the Apprenticeship Industry pages to learn about how apprenticeship works in key industry sectors.
RA is a proven strategy for helping businesses grow their own skilled workforce through a combination of customized and rigorous on-the-job training and related classroom instruction.
MAP helps companies, regardless of size, develop an RA program from the initial concept phase to registration and subsequent implementation within the company. Recognizing that RA is business driven, MAP works closely with companies to identify the occupations and skillsets needed on their job site and build out an RA program designed to meet their needs.
Map supports businesses by:
Providing information and education about Registered Apprenticeship.
Helping to streamline the registration process.
Serving as a liaison between the companies and the U.S. Department of Labor, Office of Apprenticeship.
Helping to augment existing company HR recruitment strategies to identify a diverse pool of qualified potential apprentices that the company can consider for participation in the Registered Apprenticeship.
Helping to connect companies to the public workforce system to identify resources that might help support the On-the-Job-Training and classroom instruction components of the Registered Apprenticeship.
Offering assistance to support effective implementation of Registered Apprenticeship programs.
Helping to market and promote Registered Apprenticeship programs.
Choose the level of engagement in MAP that works for your company.
Companies can engage in MAP at different levels, depending on how they choose to organize their Registered Apprenticeship programs.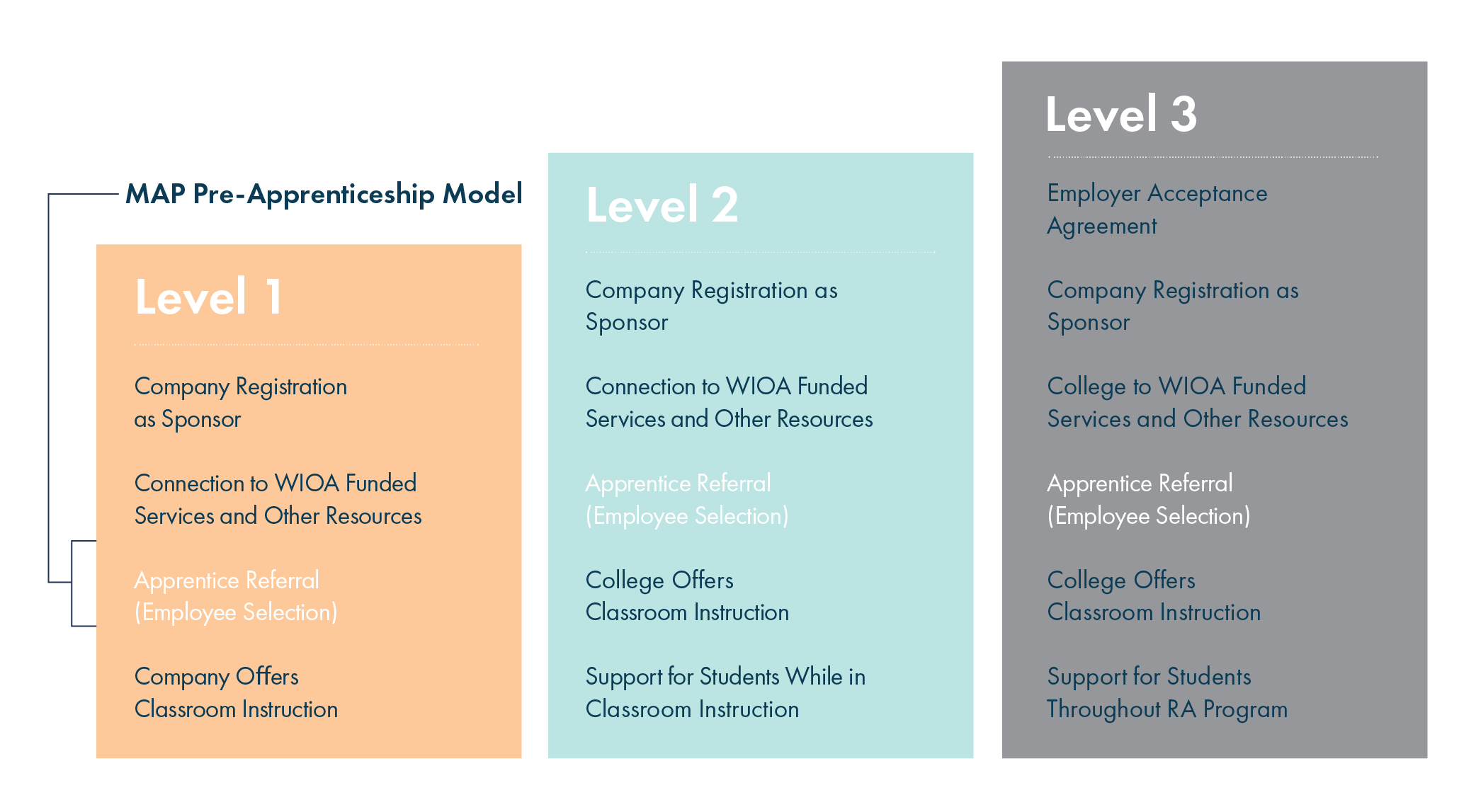 Don't want the administrative responsibilities? MAP can help with that.
Some companies like the Registered Apprenticeship model, but don't want to deal with the administrative responsibilities. For convenience to companies, the Mississippi Apprenticeship Program has partnered with four community colleges to serve as RA sponsors:
Each college works collaboratively with local/regional business and industry partners and MAP to facilitate the following key RA organizational and administrative tasks:
Identifying the apprenticeable occupations for which the company needs skilled workers.
Helping the company develop the standards of the Registered Apprenticeship.
Working with the company to design the on-the-job training and classroom instruction components.
Supporting the identification of potential apprentices from diverse populations for consideration by the company.
Working with the business to organize apprentice work schedules to facilitate participation in classroom instruction.
Providing support for the apprentice while in the RA program.
Promoting college credit and credential attainment for apprentices.
Handling all RA program paperwork for the employer required by the Department of Labor (if desired by the employer).